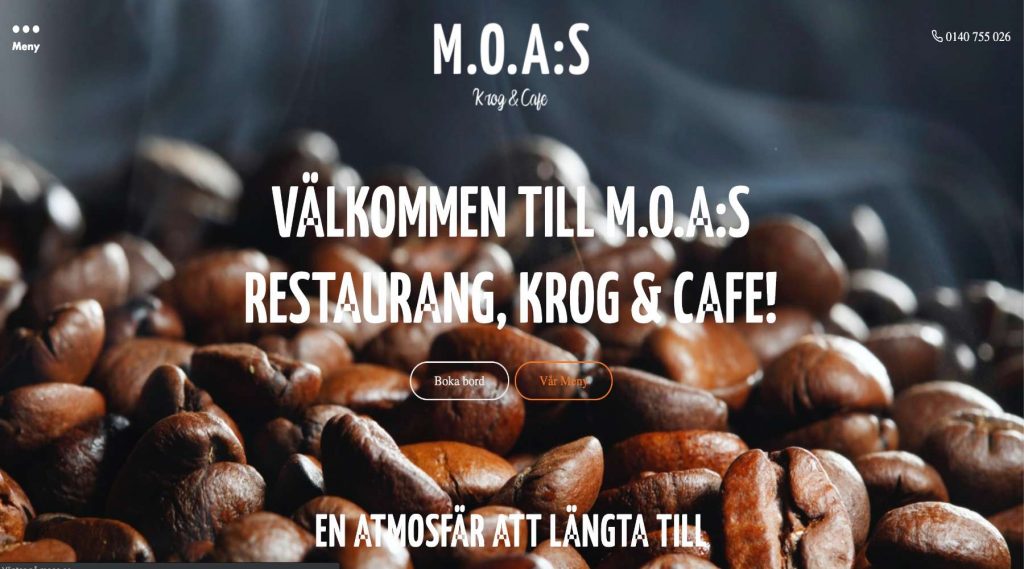 MOA's restaurant, tavern & café in Tranås had a website that they already liked. They liked the structure and the basics of the website. On the other hand, they wanted it to feel more "modern" and "2020". They had no direct requests for features other than that it should be easy to find their menu and general information directly on the home page.

The owner behind the company gave us free rein as long as we could just "modernize" the website a little more to what it looked like before.
Said and done, Hampus, one of our developers and designers, set about designing a new, stylish and modern website from scratch. We also took with us that MOA: S stands and is characterized for "quality" with its 4.1 out of 5 in ratings on Google reviews where we present the reviews directly on the home page.

We also built the site so that it is nicely adapted and easy to navigate from both computer and mobile. Of course in the usual order, we install Wordpress, which is the world's largest CMS (admin system) so that it is easy to update in this case, e.g. lunch menu that is changed weekly.
Are you also interested in a new website?
What need does your company have? We know that each customer is unique, but we have set up three different packages that we use as a starting point to facilitate the process in the needs analysis where we develop your company's needs for functions.

Check out the packages here or give us a call on 058 899 5545 if you prefer to talk to one of our knowledgeable colleagues on the phone. Of course, it is also great to email us at hello@actlocal.se so we can book a conference call where we go through your needs.