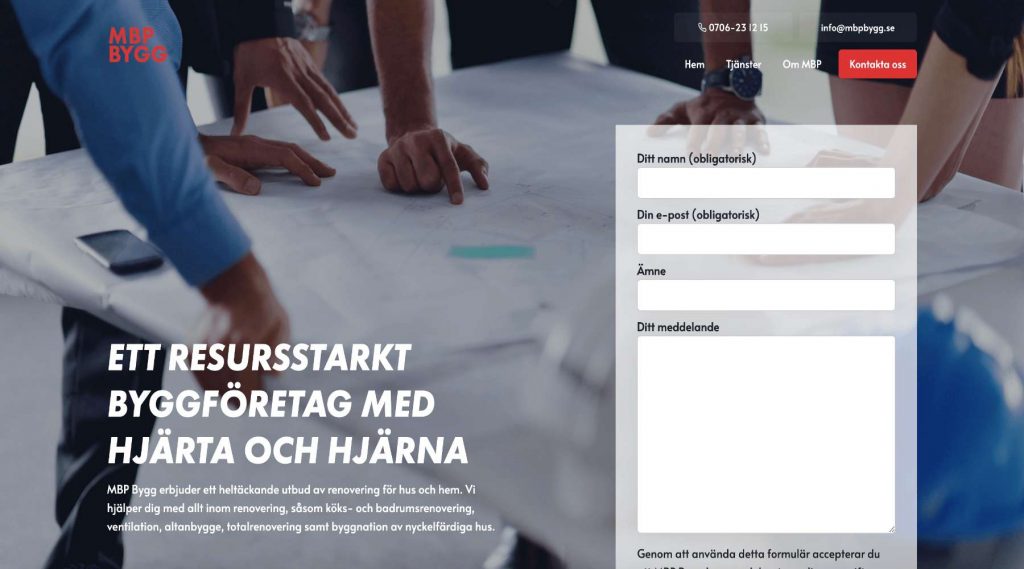 MBP Bygg is a construction company based in Halmstad that is active in construction and renovation. Today, they have a large customer base but also wanted to reflect their seriousness as an online business. They previously had a website of an older model and felt it was time to refresh it and therefore contacted us at Act Local.

MBP Bygg realized that as the number of searches on Google increases according to their type of business. That their website then becomes their digital face & shop window to the outside if a customer surfs into their website, they of course wanted to show the same seriousness that a customer feels when they meet them as a company. Therefore, it felt important to have a new website for MBP Bygg.
We teamed up with MBP Bygg to do a proper needs analysis of what their customers are looking for when they need to find their company. As well as the types of services that are their most important services and primary focus area. When we had found the right one in these areas and found which approach we should present on the website, we started thinking about how to convert the visitors into customers.

We therefore threw a nice contact form directly into the slider on the first page to make it easy for the customer to fill in their contact information to be easily contacted by companies. We also sketched out a stylish and professional design that went hand in hand with their current brand and brand. Of course as usual from scratch without any themes.
Are you also interested in a new website?
What need does your company have? We know that each customer is unique, but we have set up three different packages that we use as a starting point to facilitate the process in the needs analysis where we develop your company's needs for functions.

Check out the packages here or give us a call on 058 899 5545 if you prefer to talk to one of our knowledgeable colleagues on the phone. Of course, it is also great to email us at hello@actlocal.se so we can book a conference call where we go through your needs.