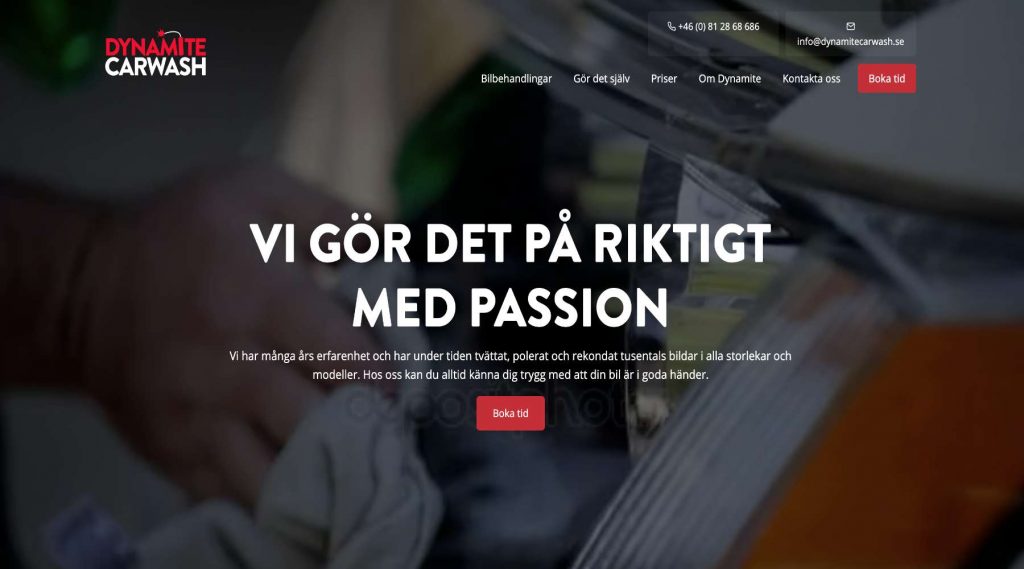 Dynamite Carwash is a car wash located on Kungsholmen in Stockholm. They previously had an incredibly Basic website that more or less only presented their prices, services performed, where they are located and other contact information. Over the years, they have grown significantly and gained several major contract customers for their car care and therefore felt that they wanted a professional face online. Dynamite Carwash therefore contacted us with a sketch of what they had thought the site would look like and also wished that it would be easy to book time for car washing, records and other services. They also wanted to present new services that they perform in a nice way on the website.
One of our designers came up with suggestions for improvement and from the ground up developed a really nice design that the owners of Dynamite Carwash directly loved. We also delivered a completely new logo to the company so that it would go hand in hand with the new design of the business. As usual, we link the website to Wordpress, which is the world's largest CMS (admin system) for websites. This is to make it easy for the company itself to be able to make changes, price adjustments, upload new images and texts without having to hire us for such simple measures.
Are you also interested in a new website?
What need does your company have? We know that each customer is unique, but we have set up three different packages that we use as a starting point to facilitate the process in the needs analysis where we develop your company's needs for functions.

Check out the packages here or give us a call on 058 899 5545 if you prefer to talk to one of our knowledgeable colleagues on the phone. Of course, it is also great to email us at hello@actlocal.se so we can book a conference call where we go through your needs.